Our 23-foot Coastal Vokey boat is fully approved under Transport Canada's blue label compliance program and is comfortable and safe for up to 12 passengers. We offer fishing for cod and/or sharks, sightseeing, interpretive tours/hiking of Historical Exploits Island, or a combination of all. All tours are a full day in length.
We are pleased to offer you a choice of Boat tours described below.
Contact us to discuss your interest and suggested itineraries!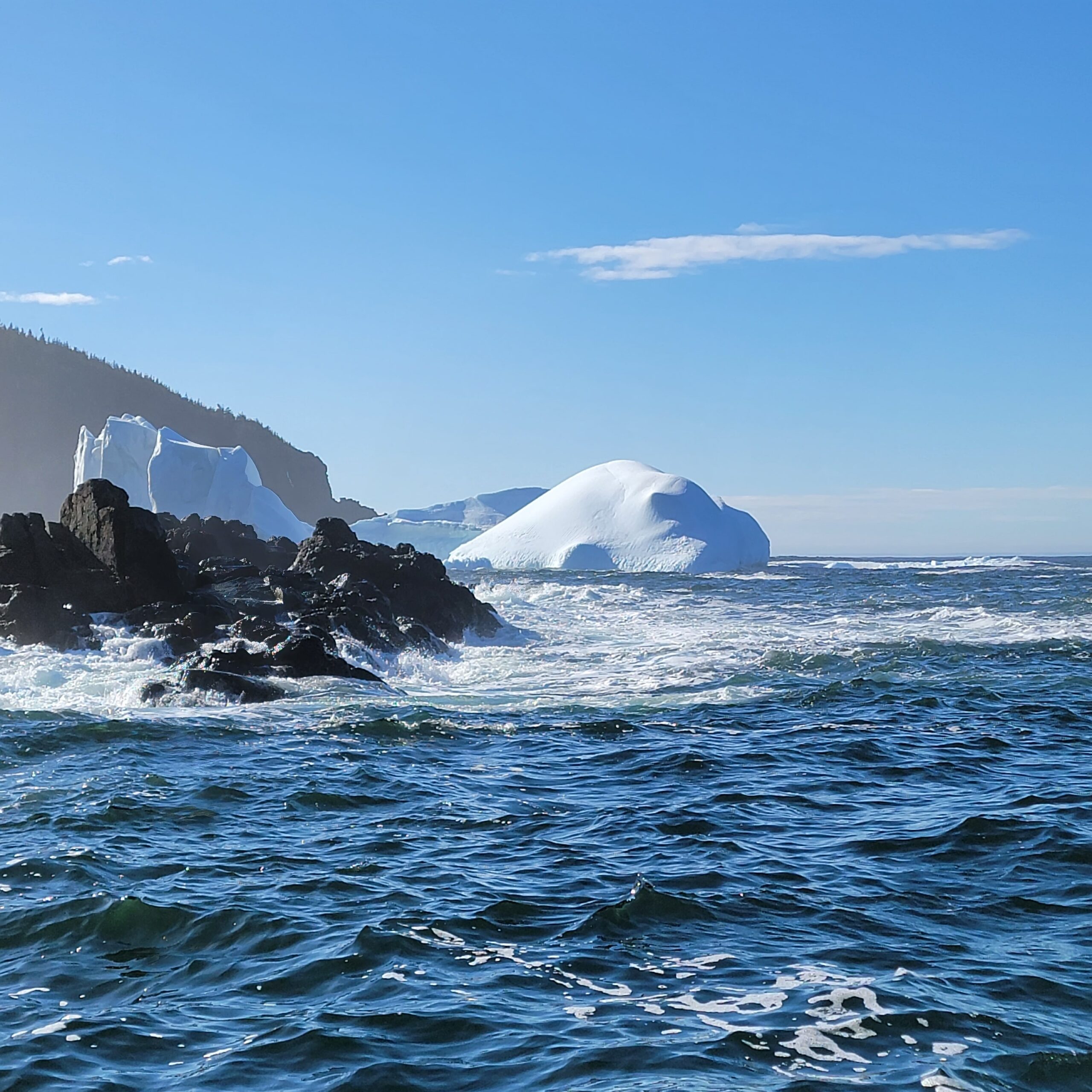 Iceberg Tours
Iceberg viewing, either from a boat or a kayak has been a major desire for both tourist and locals alike for many years. Along with Whales, Sea Birds, and the sheer beauty of our rugged coastlines, Icebergs are definitely something to behold.  Now some years are excellent for iceberg viewing and some years are not so good. They are constantly on the move and their locations are subject to many variables such as wind and tide. But the beautiful thing about them is that they can be tracked and by looking at the Canadian Iceberg Charts, as well as Facebook groups such as Newfoundland Iceberg Reports, we have a good idea where they are.
Combine iceberg viewing with any of our listed tours  and monitor our Facebook Page www.facebook.com/adventuresnewfoundland  for updated information on their locations within reach of our basecamp.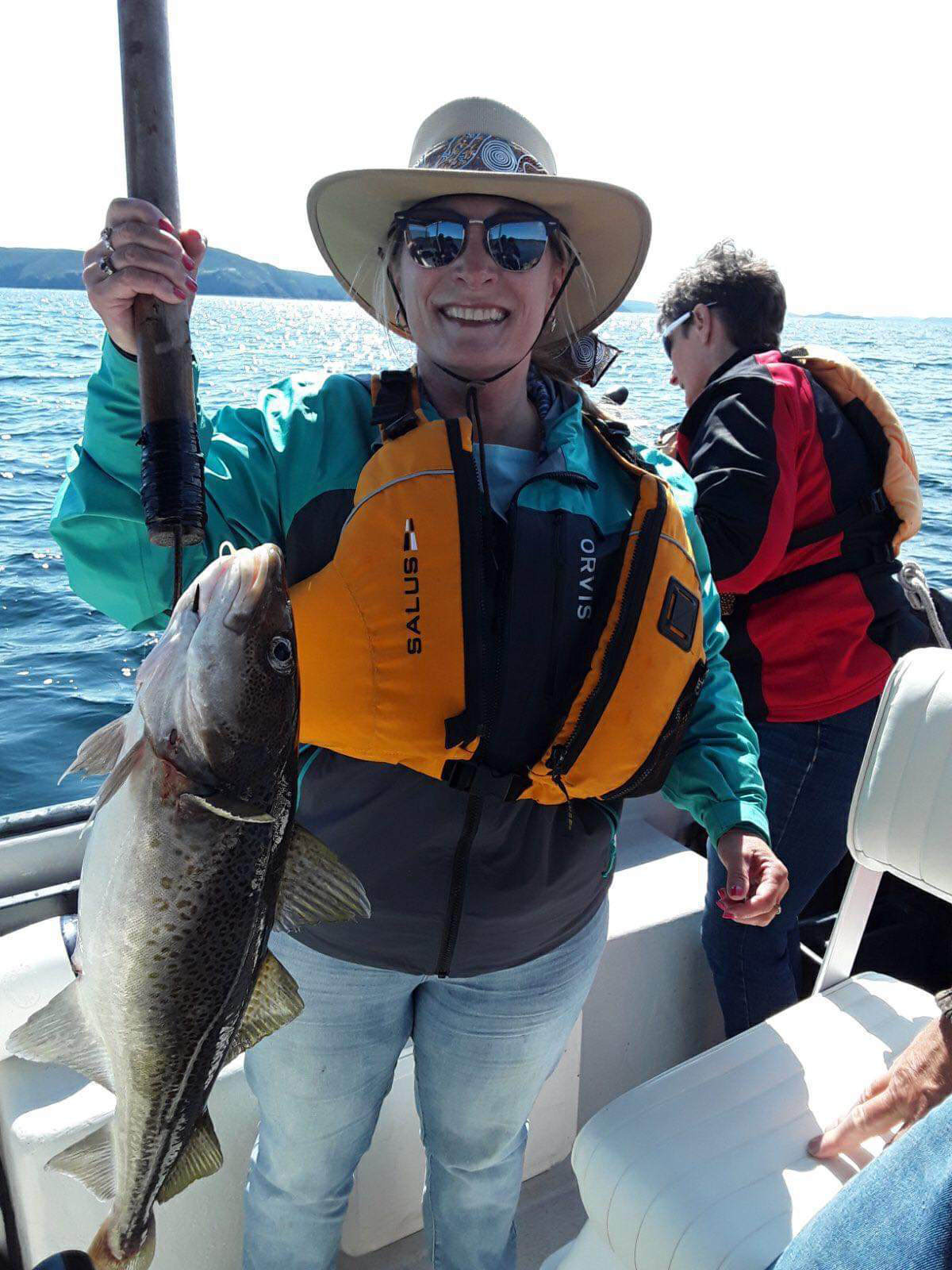 Exploits Island Fishing and Cultural Tour
Experience a full day visiting one of NLs largest resettled Villages. The village of Exploits was once one of the largest fishing centers on the North East coast of NL. Nestled between two islands that were once connected by a bridge, Exploits was a thriving fishing village with sawmills, shipyards, churches and schools. Census reports show 600 residents in 1874 but less than 300 by 1966. Today, Exploits Island is a seasonal destination for recreational boaters, people who have family ties to the island and others who just fell in love with the place and have built cottages there.
Your tour will begin with a 20-minute boat ride to the outer reaches of the Bay of Exploits and into the sheltered narrows of the Harbor of Exploits. Now, we can't talk about NL culture without beginning with the cod fishery, so after a brief stop lets take a short jaunt to a fishing ground to see if we can catch some cod. Continuing with our cultural theme we will return to our Exploits harbor dock, clean your fish and give you a demonstration of how cod was cured back in the day. When lunch time rolls around you can choose between dockside fish and chips (using your fish) or a more traditional meal of "fish and brewis". Please note that the catching and retention of Cod is limited to the recreational Cod Fishery dates. Although they may vary from year to year, they usually are weekends, extending from Saturday to Monday evening and through most of the summer.
After your meal settles a bit its off to explore the island by walking the old village foot paths. We'll talk about its natural history, the indigenous but now extinct Beothuk and their clashes with early Europeans, the 1960s resettlement program and visit old cemeteries. With a bit of luck, we'll run across some locals and have a chat about what it was like to grow up in a remote NL community. Unfortunately, we'll soon be out of time and its back to Lawrence's harbor with a day full of memories. Memories you won't soon forget.
Rates:
$245.00 per person plus 15% hst
Minimum of 3 People
Discounted rates available for groups over four.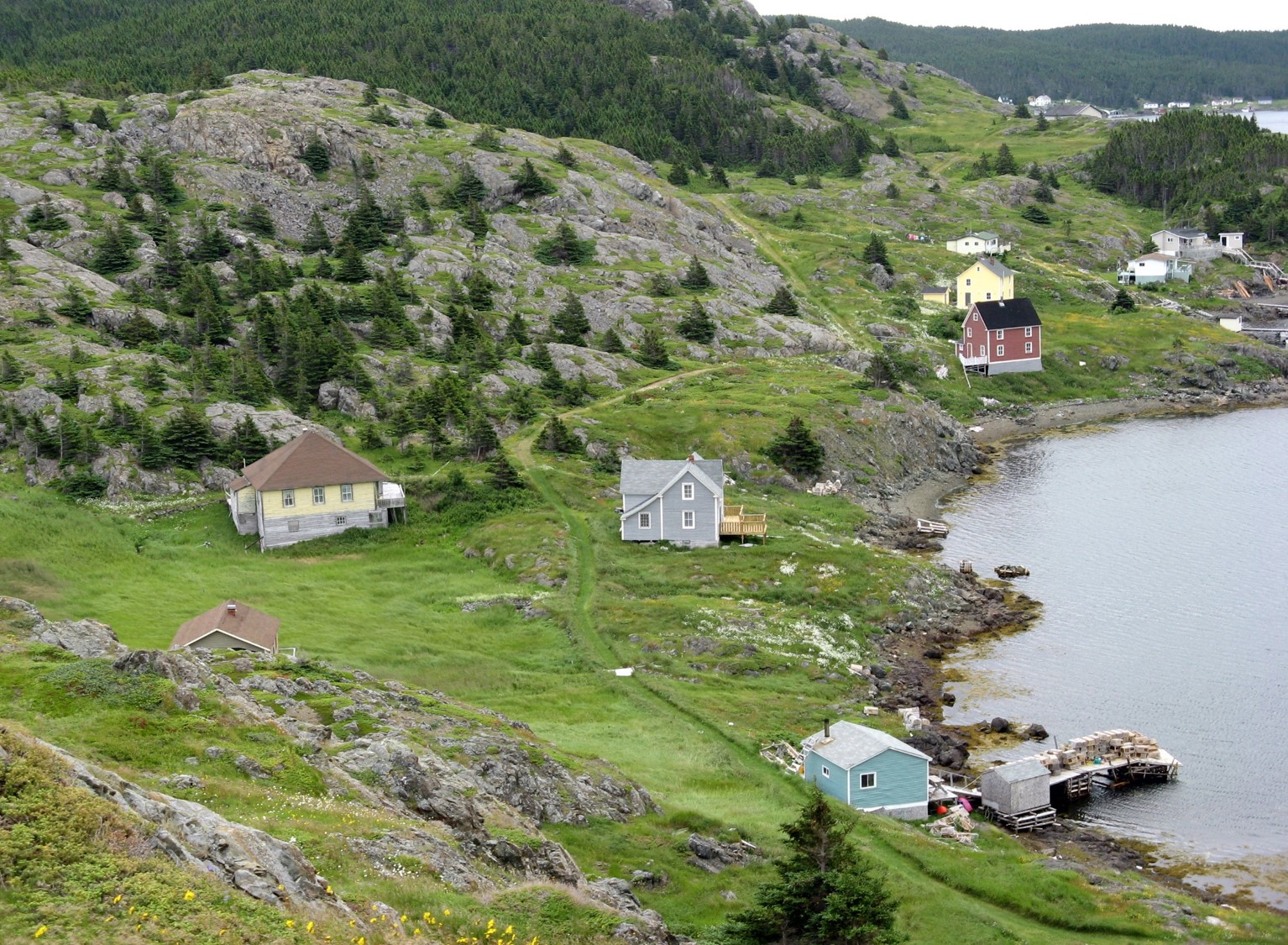 Bay of Exploits Resettlement Tour
The history and commerce of Newfoundland and Labrador was built on the fishery and thus many small communities were established throughout the entire coastal region. Some of these communities were seasonal fishing stations and some eventually grew into communities which were very much isolated from much of the province, except for water transportation or overland hiking trails. In many communities the seasonal inshore cod fishery provided both sustenance and the vast majority of employment opportunities. (Wikipedia)
Many offshore islands were settled around coastal Newfoundland due to the close proximity to the fishing grounds. Many of these villages grew into sizable communities with churches, schools and shipyards. The Bay of Exploits boasted numerous communities, some small ones located in little coves where you would think it would be impossible to live, as well as much larger ones located in harbors of the larger Islands. However, the fate of these communities as well as others surrounding coastal Newfoundland was sealed in the mid-1960s as a result of the infamous resettlement program. Designed by the Smallwood government, the program aimed to move all residents to the mainland of Newfoundland where services such as hydro, health care, schools, roads and post offices could be provided much cheaper, as well as to centralize and modernize the fishery.  The program took on many forms from 1954 to 1975 with different payment regimes for the families who moved from remote communities like Exploits. The main areas affected were the islands of Placentia Bay, Bonavista Bay and Notre Dame Bay, as well as communities on the southwest coast. It's estimated that over 200 communities were abandoned with 28000 people being relocated to towns known as Growth Centers.  The whole era of resettlement was and remains very controversial. Some believe it destroyed a way of life while others believe that improved services and access to better education was a blessing.  During the moving process, some people left their homes but others tackled the laborious task of jacking up their houses and floating them across the bays to new locations. There are many pictures and paintings that exist today that depict people taking their houses with them.
This full day tour will take you to three of the largest resettled communities located within the Bay of Exploits. We will depart from Lawrence's harbor base camp in our fully Transport Canada certified 24-foot Coastal Vokey boat to our first stop on Exploits Island. You'll spend a bit of time here with an interpretive walk of the old village footpaths and taking in points of interest or if hiking is not your thing just taking in the sites as you remain in our boat. There's lots to see and learn before heading over to Black Island Tickle for our second adventure. From Black Island its over to North and South Sampson Island to visit our third and last resettled community before returning to base camp at Lawrences harbor. This is a full day packed with the history of three remote communities whose residents, all with the exception of one couple, packed up and left for what they thought would be greener pastures. We always love the discussion this tour generates and hearing your opinions on the resettlement program.
Lunch will be provided
Rates:
$295 per person plus 15% HST
Minimum of 3 People
Discounted rates available for groups over four.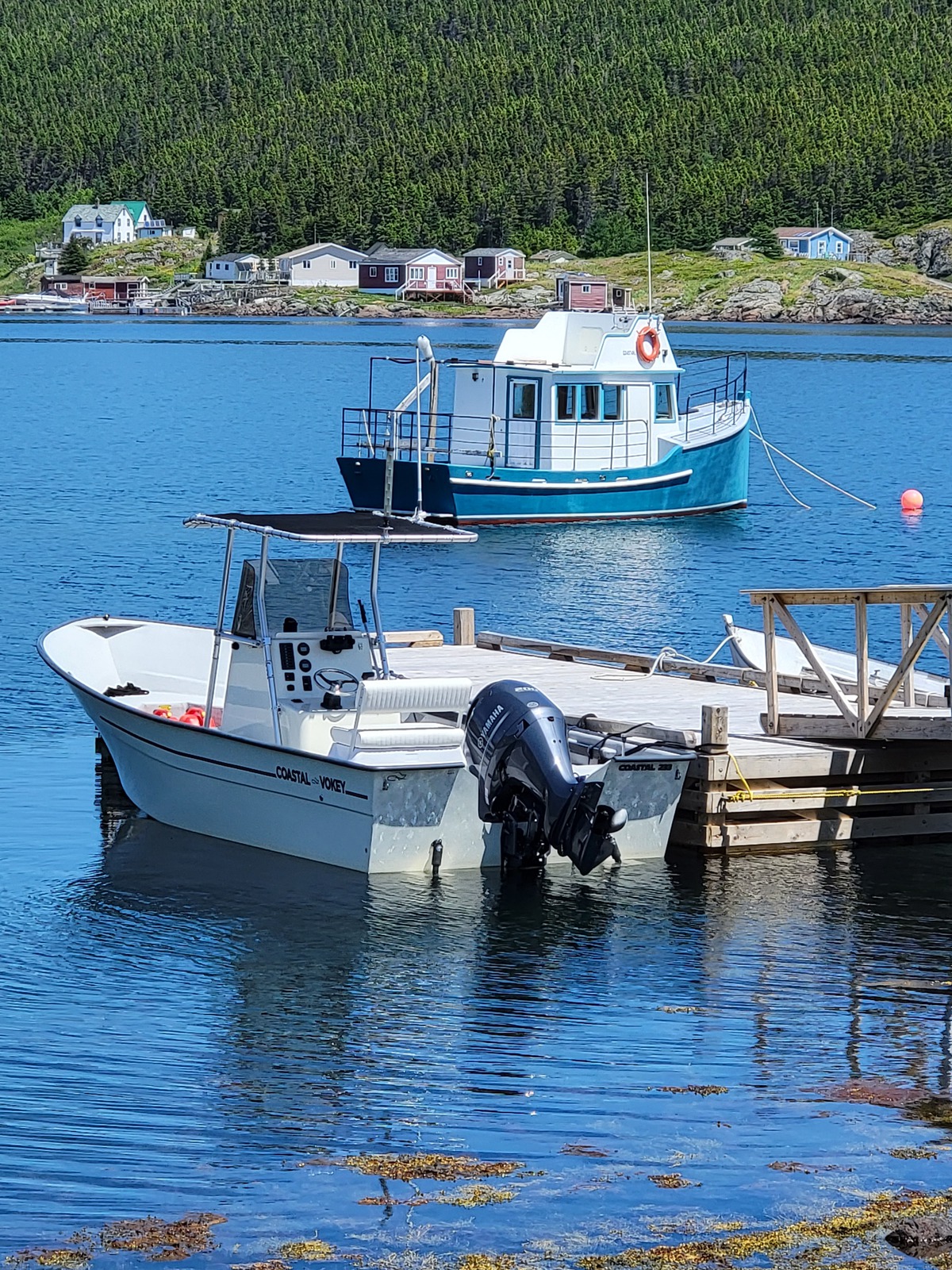 Custom Tours and Water Taxi Service
We would be happy to custom build a boat tour of your choice or provide a water Taxi service within the Bay of Exploits.  Rates will be based on length of tour/ trip and fuel prices at the time. Please contact us for details.
Sightseeing and Cod Fishing Tours
If its simply a day of Cod Fishing and sightseeing you are looking for, we can accommodate up to 6 people for a day of trying your luck with a rod and reel or a more traditional way known as "handlining". These tours will be subject to the 2024 recreational cod fishing season dates and any announced quotas. For the past number of seasons, we have been permitted to catch and retain cod each weekend from Saturday to Monday and quotas have been 5 cod per person with a maximum of 15 fish per boat. Departure locations will either be Little Burnt Bay or Lawrences Harbour, whichever is more convenient for you.  Please check with us for the 2024 season and quota announcements.
Shark Fishing Charters
Fishing for sharks on the North East Coast of Newfoundland has become more and more popular in recent years. While a number of species frequent the coast, legal fishing is only permitted for Porbeagle and Blue sharks.
The porbeagle shark is one of the most common pelagic sharks seen in Nl waters. While averaging just over 7 feet in length it can reach up to 11.5 feet. Many recreational cod fishers have had some sort of an experience with Porbeagles, whether simply chasing a hooked cod to the boat and sometimes biting it in half, or completely swallowing the cod and getting hooked on light cod tackle. This almost always ends in a snapped line and lost of tackle.
The Blue shark is also common in our waters and often shows up later in the summer. It averages 11 feet in length and can reach up to 13 feet.
For the season of 2024, we will be offering shark fishing charters for porbeagle and blues for the first time.  We will pick you up early morning at our docking facility at Lawrences harbor on route 352 and head out to the headlands of Exploits Island where sharks are often found. We supply all heavy tackle such as rods, reels, leaders, hooks and baits. We will be fishing from our 24-foot Transport Canada certified boat by drifting and chumming as we go.
Shark fishing requires a lot of patience.  A hook up may occur quickly or it might take a few hours. One thing for sure though is that once you hook one the waiting time sure will be worth it!
Rates: $250.00 per person plus HST. Minimum 3 people, maximum 6. Discounts available for over 3.
Under 3 people is possible but a boat rate of $750.00 will apply.
Schedule: Tuesday to Friday weekly beginning July 16, 2024
Lunch and snacks provided
Please note that this is a catch and release fishery only. Porbeagles and Blues will be tagged and information collected for the Dept of Fisheries and Oceans.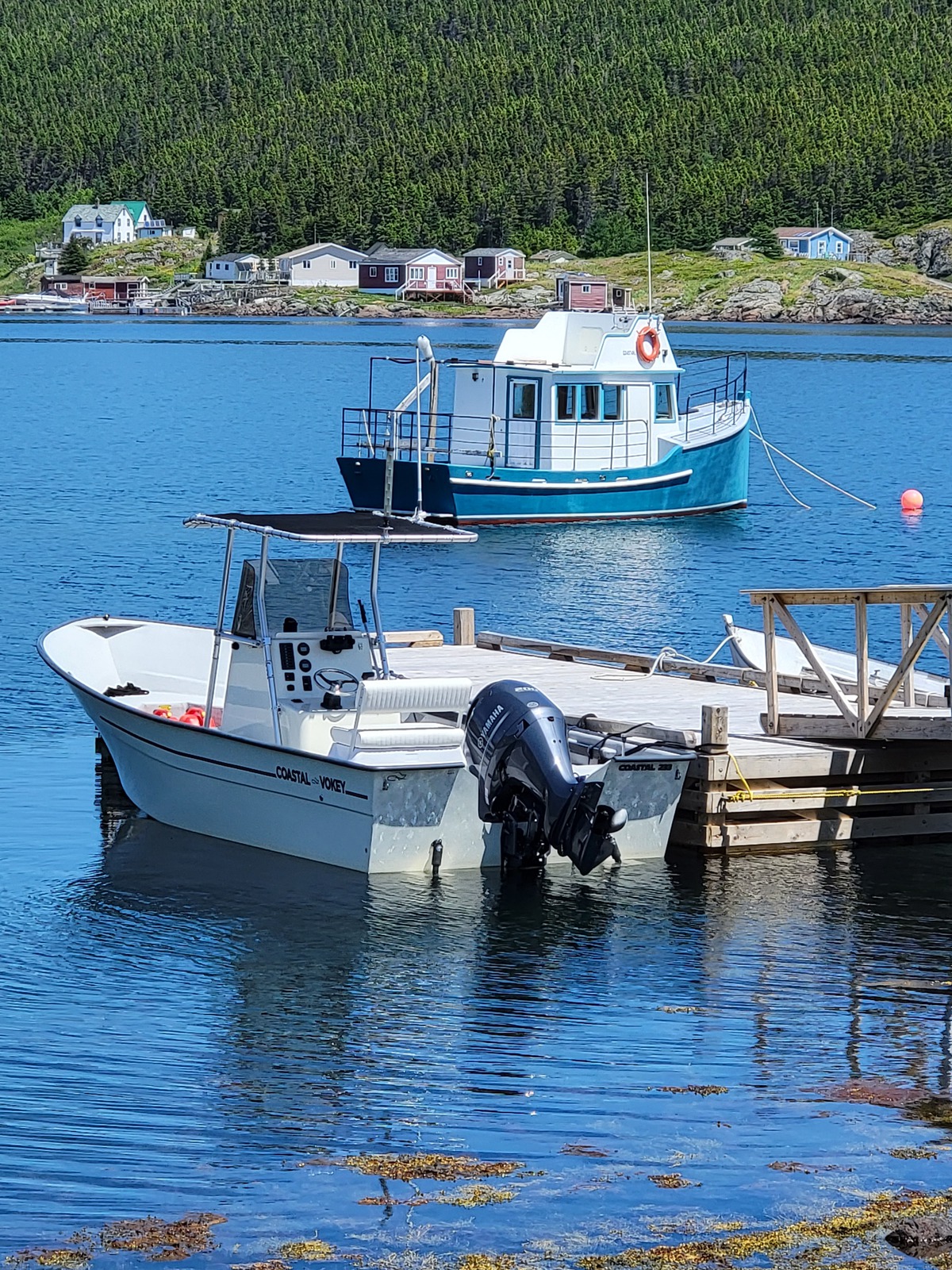 Multi-Day Fishing Tours
This is an action-packed two-day fishing tour that combines the recreational cod fishery with a day of shark fishing, all why enjoying the rugged coastal beauty and history of the Bay of Exploits. Heres a sample itinerary but we can also change it up to fit your interest.
We will pick you up early morning at our Lawrences Hr dock, located on Route 352 north of Botwood. We will bring you to Exploits Island and from there out to the traditional fishing grounds to fish for cod. After fishing we will return to the harbor and clean your fish. We will show you how cod was split and salted years ago and prepare your fillets for a meal of fish and chips for lunch.   Spend the remainder of the day soaking up the scenery and history of Exploits Island and spend the night with us at our base camp. The next morning, we will head out to the fishing grounds again to try big game fishing for Porbeagle and Blue sharks. This is a catch and release fishery only and you can check out the details in our Charter Shark Fishing tour. At the end of day two its back to our Lawrences Hr dock with a boat load of memories.
Rates: $350 per person per day.  Includes meals for the two-day period as well as your stay at our base camp.
Schedule: Friday and Saturday or Monday and Tuesday weekly beginning July 12, 2024