Newfoundland Sea Kayak Tours
Sea kayaking in the province of Newfoundland and Labrador has become very popular during the past decade, but you'll be hard pressed to find a better location for both short- and expedition-style tours than the Bay of Exploits on our province's Northeast coast.
Located within the much larger Notre Dame Bay, the Bay of Exploits offers some very sheltered paddling among its many islands, or for the more adventuresome paddlers, there's the beauty of the exposed Northeast coast of Newfoundland. Icebergs, whales, dolphins, seabirds, nesting raptors, intertidal zone marine life, spectacular scenery and our culture are all things you can see and learn about when you paddle with us. If icebergs are at the top of your priority list, please contact us to discuss the right timing for your tour.
Long before the arrival of European settlers, the Beothuk Indians inhabited this land and paddled the waters of the Bay of Exploits in their birch bark canoes. The coast was a summer destination for them, and it provided fish, eggs and other food sources critical for their survival. European settlement of the region began about 500 years ago. After discovering the rich resources of the area, serious conflicts developed between the native population and the European settlers. As a result of years of confrontation and European diseases, such as tuberculosis, the Beothuk population became extinct. Although, there is much debate to this very day on that belief. Learn more about the native Beothuk population and their fascinating but tragic story as you paddle these waters.
For inexperienced ocean kayakers, it is best you have a guide accompany you. This bay is truly home turf for us here at Adventures Newfoundland. A lifetime of working in this environment has given us extensive knowledge of its geography, weather patterns and how certain winds affect the areas we paddle, as well as the history and culture that we are sure will fascinate you. We will certainly work hard to ensure you have a safe and enjoyable time. We have a number of tour choices to choose from depending on your interest, so take some time to decide which one is right for you.
Please note that we do not set dates for day tours and some multi-day tours but try to fit them to your vacation schedule. A date listed for a tour means that we have already signed some people up but there is room for more to join in. 
Just call us with as much advance notice as possible and we will do our best to accommodate you. For our 2024 season, we will continue to run our tours from Exploits Island located at the headwaters of the beautiful Bay of Exploits. All tours include transportation to and from Exploits Island.
Full Day Guided Tour Choices
For the upcoming 2024 summer season, all of our day tours will take you to historic Exploits Island, located at the headlands of the Bay of Exploits. You will begin your day at our Lawrences Harbor base camp located north of Botwood on route 352. From here you will take a 20 minute ride to historic Exploits Island in our Transport Canada certified power boat where your Kayaks will be waiting for you. Upon arrival you can choose between one half of your day kayaking the old resettled village of Exploits and the other half hiking to various points of interest on the island such as old cemeteries, lookouts and the old breakwater wall or the option of paddling all day exploring the coastline. Either way you will  be immersed in the history of this once thriving fishing village that was resettled back in the 1960s by the government of the day.  Lunch will be provided. To Learn more about Exploits Island click HERE
Time: usually 9 am to 5pm but private groups may adjust timing .
Included: Kayaks, equipment, all safety gear, a tour guide and lunch.  Please scroll down for a list of things to bring.
Cost 215.00 per person plus 15 % HST.  10% discount available for groups over four. Family discounts also available. Contact us for details.
Value Added Day Tour
This unique experience will also take place at Exploits Island,  located at the headlands of the beautiful Bay of Exploits. Your day will start the same as described above in our day tours but with the added value of learning how to navigate traditionally with a map and compass. Each participant will get a map of Exploits Island and will learn how to first navigate by a term called"Piloting." As you enjoy paddling and taking in the sites of the area, you will be introduced to combining a map with a compass to easily find your way by taking bearings and following them. No electronics and no batteries to fail, you will be fascinated!  There will be a true test of your newly acquired skills when you are asked as a group to lead your guide to a location where we will harvest wild blue mussels. Now we like mussels a lot, so we will make sure you find the spot if you go astray! Then, we feast on one of the finest treats of the sea as an appetizer to a traditional shore lunch. After a well-deserved rest, we will continue paddling to see what else this beautiful area has to offer. This is truly a day that you won't soon forget!
Cost : $245.00/person plus 15% hst. 10% discount available for groups over 4. Family discounts also available. Contacts us for details.
Included : kayaks and all safety equipment, map and compass. Lunch also provided.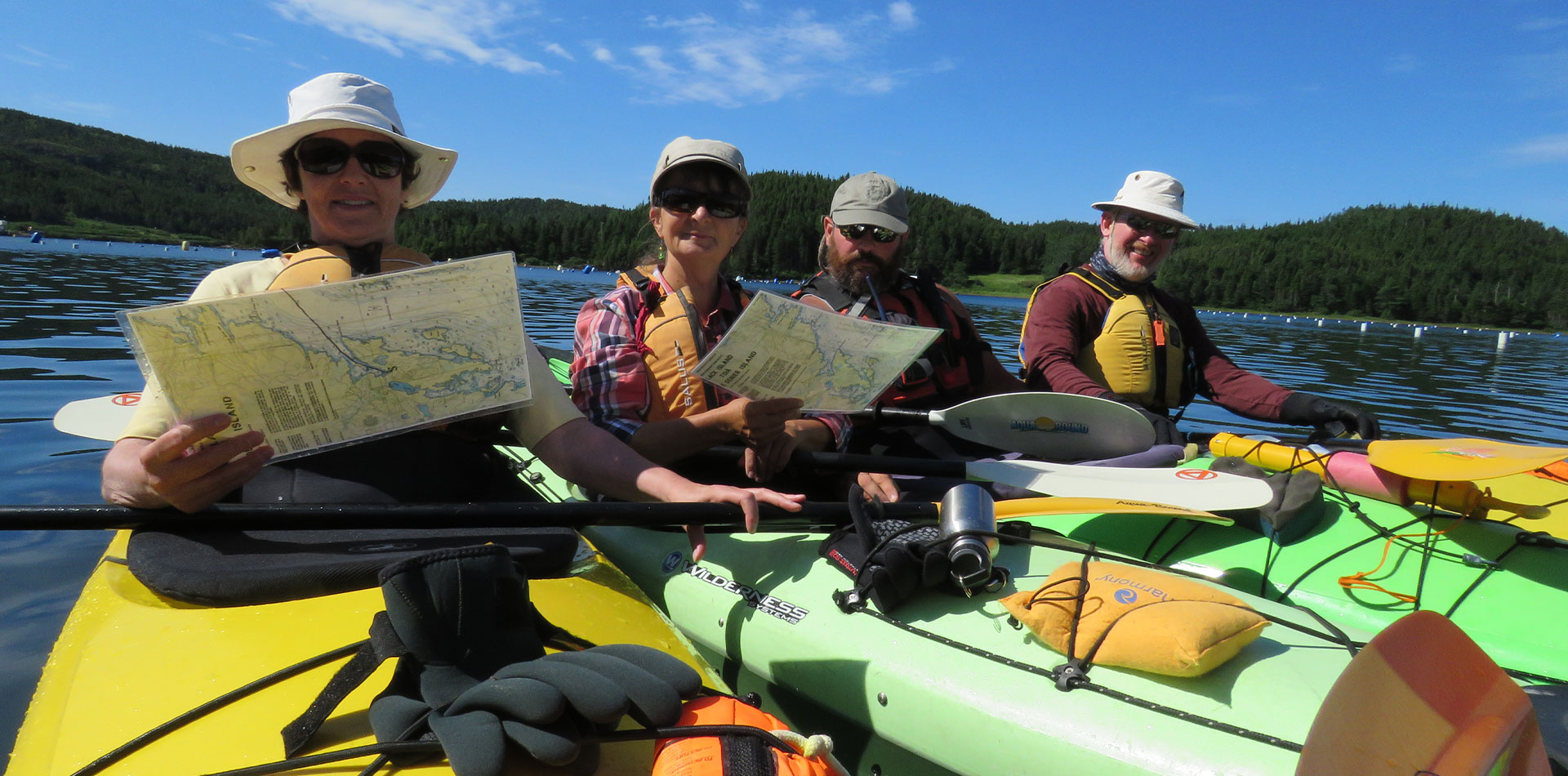 2-4 Day Tours
If you are not ready to commit to an expedition tour but still wish to experience a touch of rugged coastal beauty combined with camping, our two- to four-day tours may be for you. Once again departing from our Lawrence's Harbour base camp and travelling to Historic Exploits island to begin your kayak tour of choice , your guides will take you on a journey beginning in sheltered waters, then out to the rugged headlands forming the Bay of Exploits. Camp in sheltered coves, feast on traditional meals and eat fresh wild mussels harvested by you and your guides. Bald eagles and osprey are abundant, and depending on the time of year you may even see icebergs and whales.
Please note that the timing of these tours can be organized to fit your vacation schedule but please contact us at least 30 days in advance.
Rates:
Two day(1 night) tour……………$575.00/ person
Three day(2night) tour……………$925.00/ person
Four day(3 night) tour…………$1,200.00/person
This tour operates from our new base camp on Exploits Island. We will transport you to Exploits island in the late afternoon of the day before your tour starts. Get settled in and have dinner with us overlooking the beautiful historic harbor. After dinner we will do a little exploring around the trails and maybe even have a campfire if weather conditions permit. Your big adventure will begin the next morning with a day of kayaking around the island or if its too windy we'll be off hiking the old trails to hike, sightsee and learn all about this magical place. One thing we like about this tour is its flexibility to do so many things depending on the weather. Besides kayaking, we could go fishing for cod, picking wild blue mussels and steaming them on the beach, hiking a 4.2 km trail to our remote lighthouse and maybe even spend the night there. There's no end to the possible activities! The tour ends just after noon on the fourth day at which time we will transport you back to your vehicle. Space is limited so be sure to inquire soon.
Rate: $1200 per person. Includes transportation to and from Exploits Island, all kayaking and safety gear, accommodations and meals from arrival to time of departure.
All prices subject to 15% HST
*Group and family discounts are available. Please call for details.
7 Day Expedition Tour
July 29 – August 4, 2024
Please contact us if these dates are not suitable for your vacation plans. Custom tours are possible.
Nestled comfortably within Notre Dame Bay, along NL's Northeast coast, is the Bay of Exploits. Stretching from Twillingate to Northern Head and as far south as Botwood, the bay is the final destination for the waters of the mighty Exploits, NL's largest river. With nearly 1000 square km and over 30 islands, it presents some of the finest sea kayaking that NL has to offer. Join Adventures Newfoundland on a 7-day, 6-night expedition that will take you on a trip of a lifetime. The Bay of Exploits is awash with natural and cultural history, and who better to learn it from than local guides who call this place home. Much more than just a sightseeing tour, our story of resettlement, our dialect, our traditional cuisine, and our stories will captivate you from beginning to end. For the first time on our expedition tours, we are including a one-night stay in our Light Keepers Inn located at Surgeon Cove Head on historic Exploits Island. This tour is packed with activities and is truly a week of experiential tourism at its finest. Take a look at some of our activities:
Hike to a remote lighthouse on Exploits Island and spend the night at our Light Keeper's Inn. Experience what it must have been like to be a light keeper in a major shipping lane along a rugged coastline. Take a hot shower, enjoy our traditional cuisine and get pampered by our staff.
Participate in our recreational cod fishery and enjoy a meal of one of the North Atlantic's finest offerings. Learn how significant this fishery was to the growth of NL, from the salt cod trade to its total collapse in the 1990s.
Harvest and feast on wild blue mussels.
Paddle the same waters and learn about the plight of NL's indigenous but now (believed to be) extinct Beothuk Indians. The Bay of Exploits is well known for the tragic story of their demise.
Visit what were once thriving fishing villages on remote islands and learn about our famous "resettlement" program first implement by the Smallwood government in the 1960s.
There's an excellent chance of whale viewing!
And of course, as mentioned above, immerse yourselves in our dialect, our cuisine and our stories.
We hope to have sparked your interest! Feel free to contact us for more information or to sign up.
Cost of trip: $2,395.00 per person plus 15% sales tax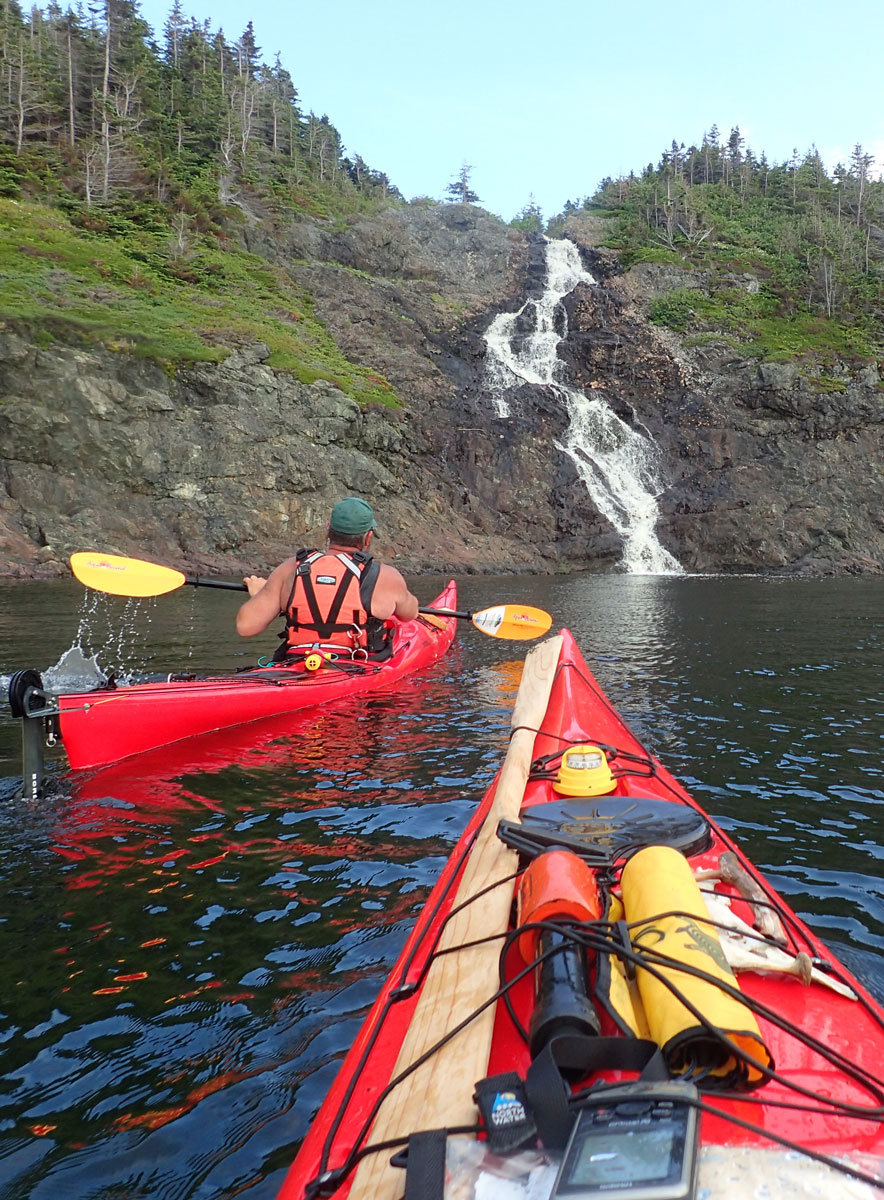 Included in our price:
Kayaks and required equipment
All group camping gear including tents
All food
Thermal protection clothing in the form of wetsuits and paddle jackets
One night's accommodation on the evening before departure and one night's accommodation on the evening of the take out.
Transportation (if required) from Gander airport to the first night's accommodation/launch site and from the last nights' accommodation/take out to Gander airport
what to bring
Day Tour
What Is Included
All kayaking equipment and safety gear, including kayaks, paddles, spray skirts, bilge pumps, personal flotation device (life jacket) with signaling device and a buoyant heaving line
Lunch
Dry bags
Wetsuit depending on water temperature
What You Bring
Some sort of shoes that you don't mind getting wet like sandals or crocs.
Sunglasses and hat.
Sunscreen
Camera but make sure it's waterproofed somehow. Zip Lock bags won't do!
Rain/wind jacket and some extra clothes in case of cooler temperatures.
Multi-Day Tour
What Is Included
 Kayaks, paddles, sprayskirts, PFDs, signaling device and buoyant heaving line as required by Coast Guard
Group camping equipment, including  tents, cookware, stoves, plates, bowls, cutlery and tarps for shelters
All food and some snacks
First Aid Kit
Guides carry emergency communication equipment such as cell phones, VHF radios and Garmin Inreach Units
What to Bring
While our summers usually provide us with favorable weather, our summer months can sometimes bring cool and damp conditions more in line with spring.
When packing clothes, it is very important to remember that cotton garments may provide some warmth when dry but are absolutely useless when damp and are very slow drying. Leave them home and look for polyester quick drying clothing!
Wet suit
Dry top or paddle jacket of some sort. Wet suits provide thermal protection to lower body but do little to protect the upper body.
Water shoes such as sandals, crocs or neoprene boots. Neopren socks are nice for warmth during cooler temperatures.
Neoprene gloves for paddling
Poly underwear, top and bottom
Long sleeve shirts (2)
Short sleeve shirt (2)
Fleece sweater
Quick drying pants (2) (the kind that converts to shorts are nice)
Socks
Wool hat and gloves (in case of cool evenings)
Lightweight rain/wind pants
Waterproof dry bags for your clothing etc. A number of small dry bags pack better than one large one. Five and 10-litre bags are good, but you will probably need a 15-litre bag for your sleeping bag.
Sun hat
Sun glasses
Waterproof hiking boots or rubber boots
Good quality sleeping bag (must be compact and able to stuff inside the hatch of a kayak in a 15-litre bag)
Sleeping pad (Thermarest)
Personal toiletries (toothbrush, toothpaste, soap, etc)
Towel
Baby wipes (valuable when conserving fresh water)
Sun screen and lip protection
Insect repellant
Water bottle
Personal medication
Campsite sitting pad
Flashlight with spare batteries (head lamps are excellent)
Day pack for hikes
Optional
Reading material
Camera (waterproof case is a must)
Multi tool (leatherman)
Binoculars (small)
Wine or beverage of choice (for evenings only), bagged wine packs well in a kayak
Treats
Pillow slip
suggested reading